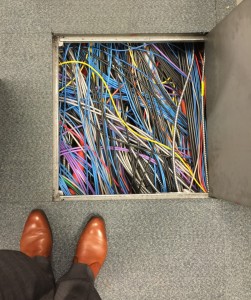 When Satellite Network Operator Intelsat hosted a workshop in Copenhagen earlier this month, it brought together local players for a timely briefing of the VSAT/HTS landscape.
MaritimeInsight was asked to moderate an informal discussion with Søren Andersen, General Manager, Marine Standards for Nordic Tankers and Freddie Hansen, CEO and Managing Director of Furuno Danmark, seeking their perspectives on the satcom landscape, drivers to connectivity and future demand trends.
Nordic Tankers operates 35 chemical tankers in the Atlantic basin trades carrying mainly chemicals and gasoline. All its ships are equipped with VSAT with Inmarsat FleetBroadband as a backup. The strongly technical nature of these ships means that the majority of onboard systems, including planned maintenance and safety management systems are connected to the VSAT for data transfer, Andersen explained.
"VSAT has become so important that if it crashes, the masters will call us and ask 'can I sail without it?' We have to remind them that they have a backup and GMDSS too. You can hear them thinking, 'can I remember how to use that?'" he says. "Almost everything is hooked up to the VSAT. If we are trading to a new area we need the licence for the electronic chart before we can do that, so digital is the only way."
Furuno is one of the best known names in marine electronics and has provided ECDIS, Radar, AIS, GPS as well as VSAT and L-Band communications systems for many years. How does Hansen see demand for VSAT services in the currently challenging market conditions?
"We absolutely see an increase. We are working with a large international owner now on collection of data onboard ship for improved efficiency. They need more than just a daily report and we are able to use the VSAT to report and send back a wider range of information, such as weather conditions, engine performance and fuel consumption," he explains.
His client has its own data analysis department but Hansen suggested in future, with more such information collected the data could be analysed by a neutral intermediary such as a class society. Sharing the information collected on vessel operations could provide useful insight into the industry's performance, he observed.
Andersen agreed that even though the price of bunkers has fallen, shipping companies are still looking for savings that will improve their competitive edge. But does this greater focus on operational efficiency even in a good market mean the era of smarter ships is here?
"The oil price is down by one third from two years ago, but instead of owners slow steaming to save fuel, now they are running full steam ahead. That means they are still looking at fuel efficiency; even at full speed, there are savings to be gained," he said.
"Our ships are relatively small but we are dependent on a good communications system. Reliability is number one, but cost is high on the agenda. As an organisation we also look for real after sales support, that has more value than a smart salesman," he added.
Even with vessels trading predominantly in the Atlantic, Andersen said it can be a challenge to arrange support for spares or service, let along convince the supplier to visit the vessel if it is somewhere remote.
Hansen suggested this could support the greater use of remote diagnostics. "New equipment has more and more functionality built which can be accessed remotely so you can troubleshoot and fix it or prepare the service technician and there is a lot of interest in this," he said.
"In monitoring the ship one of the useful data inputs is the weather stations on vessel which record roll, heave and pitch and wave heights. Capturing and sending back this data means you can optimise and plan for efficiency and safety."
So customers see the data link as vital to operations but does this mean they are asking about HTS? The answer is yes and no. Hansen says many shipping companies are thinking ahead but are very confused.
"They have VSAT and are thinking should they continue with that or go to HTS? They also hear about the new low earth orbit satellites with smaller antennas and lower prices. What they understand is that these small satellites are lower cost and could mean that prices will come down thanks to competition," he explained.
They are keen to know from their service provider whether these new constellations will actually happen but Hansen says giving them a straight answer is difficult. "Also the question for us is what these new operators mean for us as an SP – will our role be the same in 5-7 years' time?"
"We are one of those confused customers," laughed Anderson. "We will concentrate on VSAT for now, but we know there is always something smarter coming."
"Over time we probably will use more data but the challenge is bandwidth," he continued. "You can always pay more but the IT infrastructure needs to improve, especially when you are retrofitting. You can have a splendid communications solution but if you don't have the infrastructure, it's not useful."
It is an inconvenient detail that the last mile – on the ship itself – can be an issue for owners but problems with deployment and installation can make the buying decision harder. Andersen said owners would always be motivated by price but in the broader picture, easier integration with systems onboard has more value.
The other issue he said, is that an owner will look for functionality based on what the master needs, but the purchase decision might be taken by an engineer, who is looking at price versus service.
Long term though, Hansen said the trend is only going one way. Demand is ever-increasing and crew welfare is a big part of that. "We service a number of large fishing vessels and it's a never ending discussion. There's an ever-increasing demand from crew," he says.
Conversations with cruise operators relate that they are 'screaming for bandwidth' to service the customers who increasingly demand a terrestrial-style experience despite there being thousands of people to serve, all using multiple devices.
To Andersen crew welfare is very much a question of balance. Nordic Tankers gives crew access for free but blocks some apps, though he accepts that over time the crew will demand them. "The feedback is that they always want more bandwidth and functionality. The contract we have gives us up to 500KB and it simply wouldn't support Skype or Messenger, especially when we prioritise the commercial traffic."
So, the demand appears baked in and the supply is set to grow. Some would say there might be oversupply in terms of competing satellite networks, though no seafarer or master is ever going to say they have enough bandwidth.
The more fundamental question is what owners and crews are prepared to pay for these new services. Take a look at a pie chart of operating costs and beyond the majority items – bunkers and crew – comms makes up a tiny slice, normally around 1% daily. So why so owners still consider it too expensive?
Andersen explains it is not as contradictory as it appears. "When we look at vessel expenses, one of the only places where we can make an adjustment is communications. Buying a new VSAT over a period of years is not that big of a cost, but you when you buy it, you may need to save $0.5m somewhere else," he says.
Freddie modestly suggested Furuno is one of the few SPs selling on value, but that only works when they can you demonstrate reliability. "Then a customer trusts you and you have a relationship," he said. "Then they ask, 'how much did you say it costs again?'".
So enough of the present, what about the future? With so much attention on the potential of autonomous vessels to remove crew costs and drive even more bandwidth demand, what did our guests think?
To Andersen, this is something he doesn't expect to see until after he has retired. "So far, I don't believe in it. Systems break down, maybe not in the first or second year, but we are operating in a tough environment." Hansen was much more positive. "This is definitely coming, just as in driverless cars, there are companies looking into it. I think we will see some of first vessels in real operations in as little as 6-8 years."